Insights from the dashboard: Abuse and religion in Europe
Reading time:
4
minutes
Insights from the dashboard: Abuse and religion in Europe
The EARS dashboard offers insights into the implications of abuse within the context of religion in Europe. Learn more in today's article.
Expanding upon the insights shared in our previous article, we further explore the issue of abuse within religious institutions in Europe using the EARS dashboard. The dashboard is a collection of summaries from European media articles on religion and society. Out of a total of 642 summaries between the three-month period of 24 April to 23 July 2023, the dashboard produced 63 summaries that included the topic of abuse in the context of religion in Europe. Through the dashboard, we were able to discover a number of insights into how this topic has appeared in Europe and how this has been reported in the news.
Media coverage of abuse and religion in Europe
In May 2023, media coverage of religious abuse in Europe peaked. The reports primarily discussed sexual abuse within religious institutions, highlighting the systemic abuse of power in Germany[1] and Poland.[2]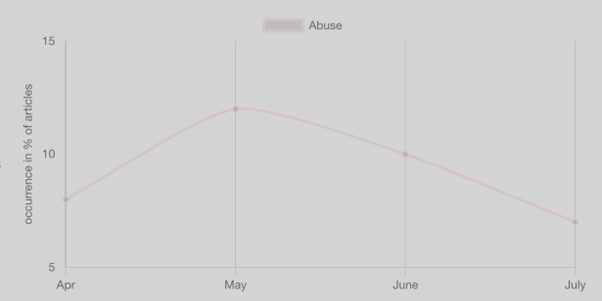 A three-month analysis of EARS dashboard articles reveals a critical intersection of abuse and religion in Europe. It specifically focuses on compelling issues within the Catholic Church that require attention.[3]
The articles reveal a troubling prevalence of sexual abuse, with cases prominently noted in Germany[4] and Croatia.[5] [6] This abuse has provoked discussions on the necessity for accountability measures within the Church, such as defrocking clergy involved in misconduct,[7] and strengthening the response to abuse allegations.[8] [9]
The EARS dashboard insights show that these abuse scandals have had substantial financial implications. German Catholic dioceses, for example, have resorted to using church tax funds to cover compensation, whereas Poland has controversially increased church funding amid the scandals.[10] [11]
The dashboard also indicates that these issues have catalysed a decline in church membership, notably in Germany[12] and across the rest of Europe.[13] This downturn is attributed to secularisation trends, the fallout from child abuse scandals, and the societal impact of the COVID-19 pandemic.[14]
Finally, there is an emerging call for systemic reforms in religious institutions. Emphasised are the reevaluation of Germany's prostitution laws, consideration of alternatives to mandatory celibacy for priests,[15] and the redefining of the Vatican's role in international diplomacy.[16]
The analysis suggests that abuse in religious institutions has far-reaching effects, necessitating systemic reform and accountability.
Keywords analysis: abuse and religious institutions
The EARS dashboard shows an interplay of the keywords leadership, identity, conflict, religious institutions, and tension in the context of abuse and religion in Europe.
Leadership in religious institutions, such as prominent figures in the Catholic Church in Germany, traditionally guides the moral direction of their followers. However, when these leaders face abuse scandals, it deeply undermines trust and moral integrity.[17]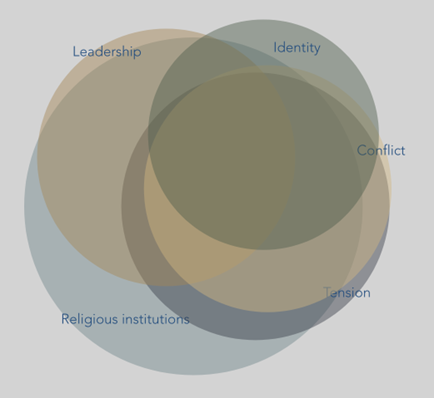 Alongside this, there is the matter of identity. Religious groups shape their identities through teachings, rituals, and community interactions. Yet, abuse scandals can overshadow the positive aspects of these institutions, leading to widespread mistrust and disappointment. This is evident in the declining church memberships in countries like Germany.[18]
But this decline indicates deeper issues. There is a growing tension between religious organisations and the societies they serve. As more scandals are revealed, internal conflict amplifies, resulting in more societal mistrust. For instance, there have been financial debates in the German Catholic dioceses about using church taxes to settle abuse claims.[19]
With their vast history of traditions and beliefs, religious institutions are at a pivotal moment. The modern societal context challenges their credibility and the trust people place in them. This is seen in significant actions, like the Church of England's decision on punishing clergy for misconduct.[20]
The period highlighted by the EARS dashboard, therefore, represents a critical moment for European religious institutions. Facing abuse claims, financial dilemmas, and a shifting societal landscape, these institutions must make crucial choices about their societal role and significance. The interplay of leadership, identity, conflict, and rising tension depicts religious institutions trying to redefine their position in a dynamic world.
Learn more on the EARS dashboard
The EARS dashboard allows you to gain insight into a large number of topics, including abuse. It is a free tool that allows you to make connections like those described above, and to find out about relationships between interesting subjects across Europe. Please visit the dashboard to learn more.
---
Sources
[1] Wegen Fehler bei der Aufarbeitung
[2] Poland's Catholic church launches campaign on how to report sex abuse
[3] NSW lawyers call for reform of 'disgraceful' tactic churches use to block abuse claims | Catholicism | The Guardian
[4] Police search Cologne archdiocese in sexual abuse perjury inquiry | Germany | The Guardian
[5] Catholic priest in Croatia sacked for sexual abuse of children;
[6] Croatia's Catholic Church Goes Public on Child Abuse Cases | Balkan Insight
[7] Church of England votes to bring back 'defrocking' as punishment for clergy | Anglicanism | The Guardian
[8] NSW lawyers call for reform of 'disgraceful' tactic churches use to block abuse claims | Catholicism | The Guardian
[9] Safeguarding in 'crisis' in Church of England, says archbishop of York | Anglicanism | The Guardian
[10] Lüdecke: Kirche droht wegen Schmerzensgeld keine Insolvenz – katholisch.de
[11] Polish government paid record 200 million zloty to Church Fund in 2022, twice as much as decade ago | Notes From Poland
[12] Mehr als halbe Million Menschen treten aus katholischer Kirche aus | evangelisch.de
[13] Explained: Is church attendance falling in Europe? | News Analysis | Premier Christianity
[14] Explained: Is church attendance falling in Europe? | News Analysis | Premier Christianity; Mehr als halbe Million Menschen treten aus katholischer Kirche aus | evangelisch.de
[15] Erzbischof Heße: Brauchen Alternativen zum Zölibat für Priester – katholisch.de
[17] Police search Cologne archdiocese in sexual abuse perjury inquiry | Germany | The Guardian
[18] Mehr als halbe Million Menschen treten aus katholischer Kirche aus | evangelisch.de
[19] Lüdecke: Kirche droht wegen Schmerzensgeld keine Insolvenz – katholisch.de
[20] Church of England votes to bring back 'defrocking' as punishment for clergy | Anglicanism | The Guardian