Insights from the dashboard: LGBTQI and tolerance
Reading time:
5
minutes
Insights from the dashboard: LGBTQI and tolerance
From allowing same-sex marriages to homophobic laws; tolerance toward the LGBTQI community varies in each country. What are some of the changes in 2021 regarding LGBTQI rights within Christian communities in Europe?
The topics of LGBTQI and religion do not always go hand in hand. Within Christianity, the belief that "You shall not lie with a man as with a woman; it is an abomination"[1] is still widespread. From the articles submitted to our EARS dashboard over the last quarter, 77 articles discuss the topic of tolerance, and 73 articles cover LGBTQI-related content. Moreover, 16 percent of the articles added in the past three months involve both tolerance and LGBTQI. Using the articles submitted to the EARS dashboard, this article focuses on how tolerant Christian communities are toward the LGBTQI community in European countries.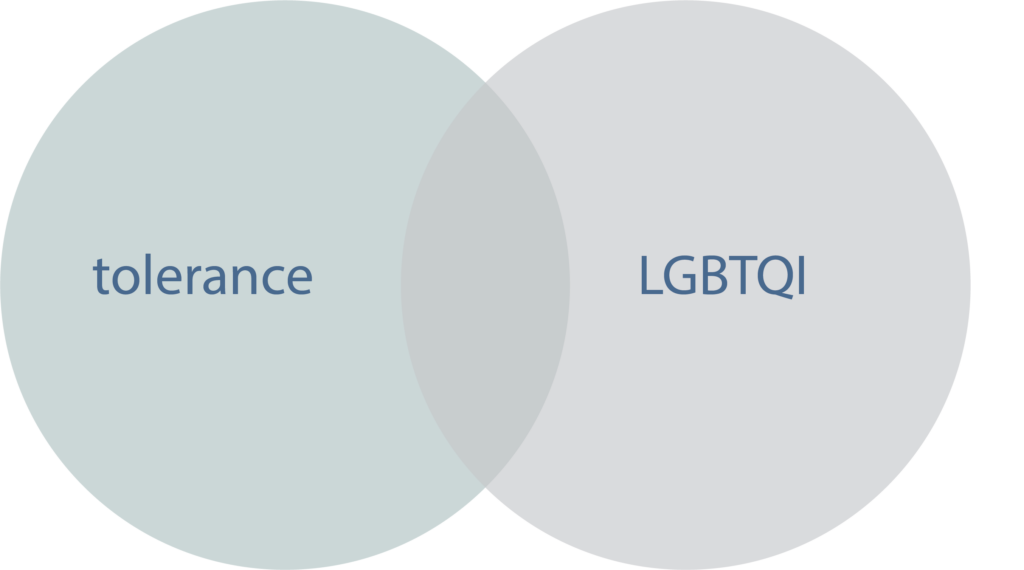 When homophobia predominates
Hungary
On June 15th 2021, the Hungarian government, dominated by the ultraconservative Fidesz party, approved a set of laws that will ban the spreading of content related to sexuality, with the aim of protecting minors.[2] The law was supposed to protect against paedophilia, but later included a prohibition against promoting the LGBTQI community as well. For example, the law prohibits shops from selling LGBTQI-related products within a 200-metre radius of churches, schools, and child protection institutions.[3]
In response to this new law, the European Union announced that it will take legal action against Hungary for violating the fundamental rights of the LGBTQI community.[4] Ursula von der Leyen, president of the European Commission, stated: "Europe will never allow parts of our society to be stigmatised: be it because of whom they love, because of their age, their ethnicity, their political opinions, or their religious beliefs."[5] However, Hungary's prime minister Viktor Orbán declared that Hungary will not bow to the European Union, and will not revoke the laws.[6]
Besides the European Union, several Jewish groups in Hungary have condemned this new law as well. The Hungarian Jewish Golem Theatre stated on their Facebook page that they "stand against the propaganda law."[7] Similarly, Mazsihisz, the largest federation of Jewish communities in the country, stated: "No one should be labelled impure, be discriminated against and certainly not outlawed simply because of their orientation or identity. Such classifications destroy social cohesion and our sense of belonging."[8]
Ireland
Although not stated in the law, similar developments can be seen in Ireland. Irish churches struggle to fully accept the LGBTQI community. To illustrate, the Methodist Church in Ireland continues to prohibit same-sex marriages as opposed to the British Methodist Church.[9] The General Secretary of the Irish Methodist Church, Rev Dr Heather Morris, stated that "[t]he Methodist Church in Ireland is a separate and autonomous body which continues to affirm that marriage is between one man and one woman."[10] Similar opinions are held by the Church of Ireland and the Roman Catholic Church, which are the other two main Christian denominations in Ireland.[11]
In fact, Minister of the Church of Ireland, Andrew Rawding has resigned from his post, due to his disagreement with the structural, cultural, and social homophobia within the Church.[12] He argued that there was an aggressive opposition to inclusion and equality for LGBTQI people. Moreover, people still use Bible verses as a weapon against the LGBTQI community, and use terms such as condemnation and rejection.[13]
One step forward or three steps back?
Italy
The Vatican has taken some steps forward and some steps back on the road toward LGBTQI inclusivity. On the one hand, the Vatican has formally expressed objections against a proposed Italian law that would prohibit discrimination against women, LGBTQI, and disabled people.[14] According to the Vatican, the law would place restrictions on religious freedom as Catholic schools would be forced to teach new gender theories. The Vatican declared that they do not want to block the law completely, but rather wish to make some changes.[15]
Earlier this year, in March 2021, the Vatican declared that homosexual relationships were still in contradiction with the Catholic faith, and same-sex marriages are not possible. Same-sex relationships are a sin, and sins cannot be blessed, argued the Vatican.[16]
On the other hand, the Vatican has rejected conversion therapies for the first time ever in April 2021. After an investigation, the Vatican concluded that bishops should not support or offer conversion therapies that were executed by the Spanish association Verdad y Libertad.[17] Conversion therapies are supposed to 'heal' homosexuals, even though this is impossible since homosexuality is not a disease.[18] This type of therapy is even said to be unethical, harmful, and not supported by evidence.[19] Moreover, Pope Francis has blessed and thanked pastor James Martin for his pastoral care of the Christian gay, lesbian, and transgender community.[20] It is the first time that a pope has done this so explicitly, and it seems contradictory to the earlier statements refusing to bless same-sex relationships.[21]
Love wins
France
However, in other European countries, various churches have taken steps towards the acceptance of the LGBTQI community. For example, the United Protestant Church of France has recently celebrated its first wedding of same-sex pastors. This happened six years after gay clergies won the right to get married. Emeline Daude and Agnes Kauffmann got married at the end of July[22] and stated that it is important for LGBTQI people to see other committed LGBTQI people within the religious sphere as well.[23] Worldwide, there are about 30 Protestant churches that allow same-sex marriage of their clergy. Within the Catholic Church, priests have to remain celibate and cannot get married, regardless of their sexuality.[24]
United Kingdom
The LGBTQI community in the United Kingdom also has reason to celebrate. As of June 30th 2021, the Methodist Church in the UK voted in favour of same-sex marriage. By doing so, it became the largest religious denomination in the country to allow same-sex marriage.[25] From now on, marriage will be defined as a union between two people, instead of between a man and a woman.[26] The vote, however, was not unanimous and members have been asked to support each other and respect their differences.[27] In the Church of England and the Roman Catholic Church, same-sex marriage is still forbidden. The Quakers in Britain, the General Assembly of Unitarian and Free Christian Churches, the Scottish Episcopal Church, and United Reformed Church do allow same-sex marriage.[28]
Adam and Eve or Adam and Steve?
In conclusion, same-sex marriage and LGBTQI rights remain at odds with Christian churches around Europe. While some countries declared laws against homosexuality, others passed bills making it possible for same-sex couples to get married. To quote LGBTQI-activist Barbara Gittings: "Equality means more than passing laws. The struggle is really won in the hearts and minds of the community, where it really counts."
The struggle for equality, inside and outside of churches, is not over yet. But at least it has begun.
Learn more
The EARS dashboard allows you to gain insight into a large number of topics, including gender and tolerance. It is a free tool that enables you to make similar connections as described above, and to find out about new relationships between interesting subjects across Europe. Please visit the dashboard to learn more.
---
Sources
[1] Leviticus 18:22
[2] Hungria proíbe divulgaçã o de conteúdos sobre LGBT junto de menores de idade
[3] Churches in Hungary to be subject to anti LGBTQ law
[4] EU brings legal action against Hungary and Poland for defense of traditional family values
[5] Ibid.
[6] Ibid.
[7] Hungary: Defiant Jewish groups condemn cruel anti-LGBT law
[8] Hungarian Jews protest 'gay propaganda law' | Jewish News
[9] Irish Methodist Church will not permit same-sex marriages
[10] Ibid.
[11] Ibid.
[12] Andrew Rawding: Minister quits 'homophobic' Church of Ireland
[13] Ibid.
[14] "Ongekende bemoeienis": Italiaanse politici boos op Vaticaan na kritiek op wetsvoorstel tegen homohaat
[15] Ibid.
[16] Vaticaan herhaalt standpunt: homoseksuele relaties blijven "een ongerijmdheid" en "kunnen niet worden gezegend"
[17] Il Vaticano: no alle terapie per "guarire" dall'omosessualità
[18] Ibid.
[19] Catholic church told to shut gay conversion therapy groups
[20] Papa encoraja "trabalho pastoral" junto de comunidade LGBTI
[21] Ibid.
[22] France's Protestant church marks first wedding of same-sex pastors
[23] Ibid.
[24] Ibid.
[25] Methodist church to allow same-sex marriage after 'historic' vote
[26] Methodists to allow same-sex weddings in church
[27] A pastoral letter from the President and Vice-President following the Conference vote on Marriage and Relationships
[28] Methodist church to allow same-sex marriage after 'historic' vote