Insights from the dashboard: Quran burnings in Sweden
Reading time:
4
minutes
Insights from the dashboard: Quran burnings in Sweden
The EARS dashboard offers insights into Quran burnings and the rise of Islamophobia in Sweden. Learn more in today's article.
The EARS dashboard is a collection of summaries from European media articles on religion and society. Between the 1st of January and the 20th of August 2023, 1,330 summaries were added to the dashboard. Between June and August 2023, 27 of these summaries dealt with Islamophobia in Sweden. The dashboard, alongside earlier EARS articles, provides us with the opportunity to gain insights into the reasons behind the rise in Quran burnings in Sweden and the implications of this.
June 2023: spike in Quran burnings
For several months, there has been tension between Sweden and Muslim-majority countries, particularly between Sweden and Turkey. In February 2022, Sweden applied to join NATO, an application which Turkey rejected for several months, demanding that Sweden return people it considered as 'terrorists' back to Turkey.[1] Since then, further incidents, including Swedish protestors who hung a doll representing Turkish President Recep Tayyip Erdoğan, have led to the deterioration of Turkish-Swedish relations.[2]
As the EARS dashboard documents, on the 28th of June 2023, a Quran burning occurred. On the same date as the Muslim holiday of Eid-al-Adha, Salwan Momika, an Iraqi refugee, burnt a Quran next to a mosque in Stockholm.[3] This holy book burning followed several others that have taken place in Sweden in the past year. Momika's action provoked large protests in Baghdad, Iraq, where dozens stormed the Swedish embassy compound.[4] Moreover, Fahrettin Altun, a spokesperson for Turkish President Erdoğan, took to Twitter to say that "those who seek to become our allies in NATO cannot tolerate or enable the destructive behaviour of Islamophobic and xenophobic terrorists."[5]
July 2023: government response
As the graph below shows, in July 2023, media coverage of Islamophobia in Sweden peaked. The reports primarily discussed the Swedish government's efforts to apologise for both the Momika and subsequent Quran burnings that took place in June 2023.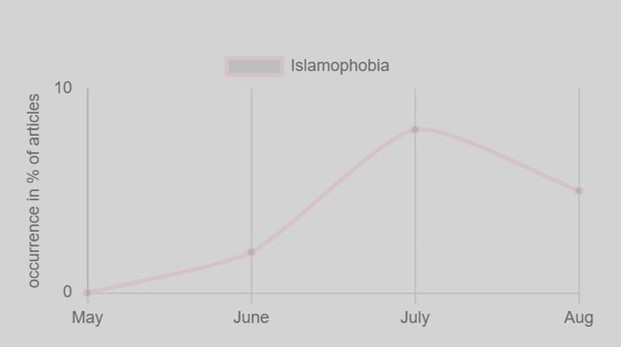 For instance, former Prime Minister Stefan Löfven called the burning a "hateful act" and expressed solidarity with the Muslim community.[6] Moreover, the Swedish foreign ministry stated that the burning of holy books "is an offensive and disrespectful act and a clear provocation. Expressions of racism, xenophobia and related intolerance have no place in Sweden or in Europe."[7] However, Swedish Foreign Minister Tobias Billsröm commented that it is "important that we always defend the basic principle of freedom of speech in Sweden … what is legal is not always appropriate."[8]
Despite this defence, Sweden still faced heat from international religious leaders. Pope Francis condemned the burning and stated that freedom of expression should not be used to justify insults to other people.[9] The incident also elicited condemnation from other Christian churches, including the Swedish Christian Council which said the act incited religious hatred.[10]
August 2023: threat of future incidents
The EARS dashboard shows how, in August 2023, the focus in Sweden turned to how to protect against the threat of future incidents of book burning whilst also protecting the right to freedom of expression. At the beginning of August, Swedish Prime Minister Ulf Kristersson accused "outsiders" of exploiting the country's freedom of expression laws and using them as "a stage for spreading hateful messages."[11] On the 17th of August, in response to recent Quran burnings, Sweden raised its terrorism alert level by one degree to the second-highest level.[12] Following this, Prime Minister Kristersson began to consider whether an official ban on burning religious books could be beneficial to the country. However, this looks likely to be the beginning of a long discussion on the issue. Some within the government think that a ban would be a "fairly far-reaching and general restriction on freedom of expression" and would require a constitutional amendment.[13]
It is clear that the topic of Islamophobia in Sweden has, understandably, been given significant attention on the EARS dashboard. The Quran burnings represent a key moment for discussions surrounding the right to freedom of expression and protection of religious values in Europe. It is likely that such discussions will continue in the following months and will be reflected on the EARS dashboard.
Learn more on the EARS dashboard
The EARS dashboard allows you to gain insight into a large number of topics, including Islamophobia. It is a free tool that allows you to make connections like those described above, and to find out about relationships between interesting subjects across Europe. Please visit the dashboard to learn more.
Want to learn more about similar topics? Go to the EARS Dashboard.
---
Sources
[1] Finland & Sweden Accession | NATO PA
[2] Erdogan doll causes bad air in Sweden
[3] Swedish Quran burning met with scorn
[4] Sweden Quran burning: Protesters storm embassy in Baghdad – BBC News
[5] Swedish Quran burning met with scorn
[6] Swedish govt condemns 'Islamophobic' burning of Koran outside Stockholm mosque
[7] Swedish government condemns 'Islamophobic' burning of Qur'an | Sweden | The Guardian
[8] Ruotsin ulkoministeri Billström puolustelee hallituksen reaktiota koraaninpolttoon: "Se mikä on laillista, ei ole aina sopivaa"
[9] Quran burning sparks protests from religious communities
[10] EU and Iraqi bishops join condemnation of the burning of the Quran in Sweden – Vatican News
[11] Swedish PM says outsiders are using country's freedoms to spread hate | Sweden | The Guardian
[12] Sweden raises its terror threat level to 2nd-highest following recent Quran burnings