Insights from the Dashboard: 2021 – A turbulent year for women's access to abortion
Reading time:
4
minutes
Insights from the Dashboard: 2021 – A turbulent year for women's access to abortion
2021 was a big year for women's access to abortion across Europe. Find out how the EARS dashboard can help you unpack how religion played a role.
The EARS dashboard is a collection of summaries from European media articles on religion and society. Between 10 January 2021 and 10 January 2022, a total of 3,946 article summaries were added by our team of analysts. 93 of these, or 2% of the total, involve the topic of abortion.
By using features of the EARS dashboard, we are able to discover a number of insights about how abortion and religion have interacted in Europe, and how this has been reported in the news.
Abortion and religion in the headlines
From this graph, it is clear that news articles dealing with abortion and religion were particularly common in September 2021.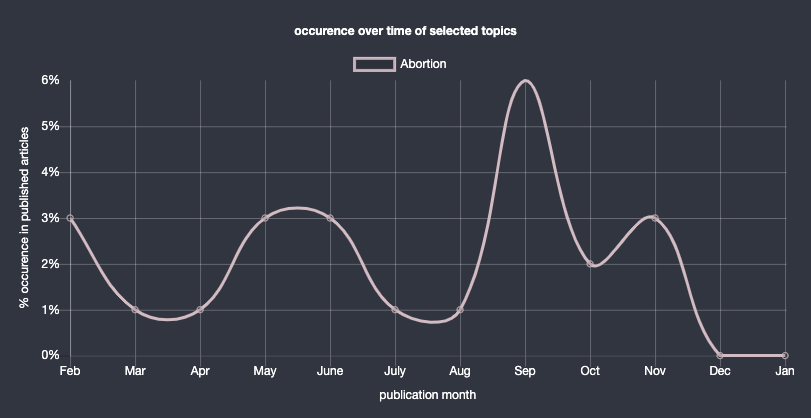 Creating an account with the EARS dashboard opens up special features that help improve your search. For example, you can expand the time range of your search from 3 months to an unlimited time period. Let's take a deep dive into September 2021 to see what made it such a significant month regarding religions' relationship with abortion.
First of all, prominent Scottish Catholics criticised a new law that aimed to curb the spread of COVID-19 by allowing women to perform abortions at home. They cited concerns over potential abuse and trivialisation of abortion if women could perform it themselves.[1]
Also in the UK, the University of Nottingham created a storm of controversy when it blocked a priest from taking up the Catholic chaplaincy because of his pro-life tweets.[2] Later in September 2021, the university reversed its decision and accepted Father David Palmer, the bishop's nomination, for the role.[3]
The Catholic bishop of the Spanish city of Oviedo made headlines over his scathing comments regarding Spain's abortion and euthanasia laws. In Spain, even bulls are given greater protection than sick people and unborn babies, he said.[4] The bishop's comments sparked a national conversation about abortion and widespread protest.[5]
That same month, Pope Francis travelled to Hungary and Slovakia, where he reaffirmed his position that 'abortion is murder', speaking passionately in favour of the unborn. With reference to whether US president Joe Biden should be able to receive communion despite accepting abortion, he warned that priests should not treat abortion as a political football, but that it should be approached pastorally.[6]
Also in September 2021, the Russian Orthodox Church banned its priests from performing sacred rites in hospitals where abortions are performed. Commentators pointed out the irony that the ROC blesses rockets and missiles intended to kill, but refuses to bless women undergoing a medical procedure.[7]
Rounding out the month, the Catholic state of San Marino voted to legalise abortion, with 77% of voters supporting the move. San Marino joins its neighbour Italy and the Republic of Ireland as predominantly Catholic states whose legislation defies church teaching.[8]
Abortion and COVID-19
The pandemic relented somewhat during the summer months of 2021, between the surges of the Delta and the Omicron variants.
By adding the category of COVID-19 to our dashboard search, we can see how abortion potentially takes up part of Europe's attention previously devoted to the pandemic.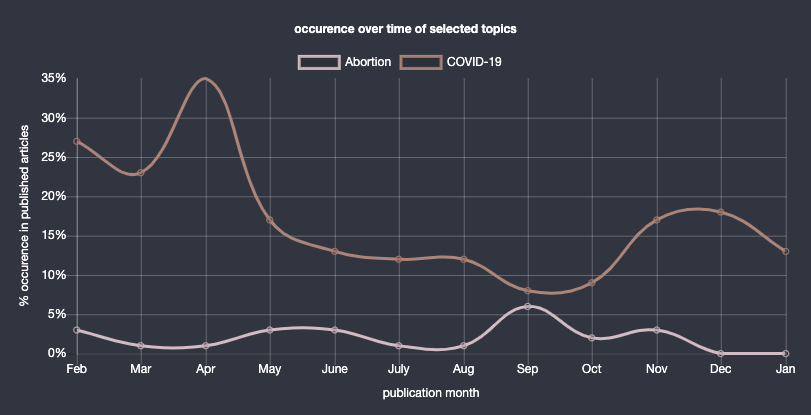 How abortion has been covered
The EARS dashboard also allows you to see where certain subjects are trending in the global religious landscape. Zooming in to Europe over the previous 3 months, we can see that Poland was referenced the most frequently in relation to abortion.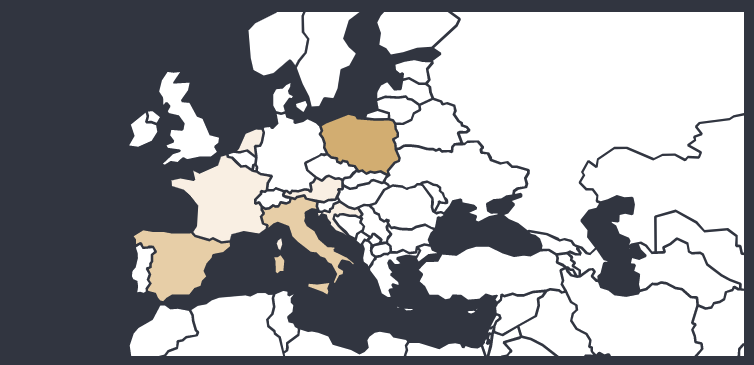 In late 2020, Poland effected a near total ban on abortion, driven by the Catholic Church which enjoys huge influence in the country. A year later, a woman died after a Polish doctor refused to perform a life-saving abortion because of this law change.[9] Violent protest erupted across Poland, causing the EU parliament to condemn Poland's harsh stance on abortion.[10]
The map also shows Italy and Spain as prominent, largely because of their involvement in debates around abortion mentioned above.
Finally, the EARS dashboard uses AI language analysis to judge the sentiment of article summaries.

The diagram shows that articles about abortion were overwhelmingly negative in sentiment – perhaps not surprising for a topic that arouses such strong emotion and pain from all sides.
Learn more on the EARS dashboard
The EARS dashboard allows you to gain insight into a large number of topics, including abortion. It is a free tool that allows you to make connections like those described above, and to find out about relationships between interesting subjects across Europe. Please visit the dashboard to learn more.
Interested in similar topics? Go to our Dashboard and get free updates.
---
Sources
[1] ​​Abortlag i Skottland får kritik
[2] Catholic priest denied university chaplaincy over tweets
[3] University of Nottingham accepts tweet row priest in chaplaincy role
[4] Sanz sostiene que los toros están más protegidos que "los niños abortados o los ancianos eutanasiados"
[5] Jesús Sanz mantiene el pulso : "Si yo hablo de la vida o la libertad, quienes la acosan y acorralan se encuentran incómodos"
[6] Il Papa: "L'aborto è un omicidio. Coppie omosessuali, no alle nozze. No Vax anche tra i cardinali"
[7] "Όχι" της Ρωσικής Εκκλησίας σε αγιασμούς σε νοσοκομεία που πραγματοποιούν αμβλώσεις
[8] San Marino women's rights groups hail abortion vote
[9] Poles march against abortion ban after pregnant woman's death
[10] EU Parliament condemns Poland's restrictive law on abortion