Insights from the dashboard: Islamophobia in France
Reading time:
4
minutes
Insights from the dashboard: Islamophobia in France
In 2022, the topic of Islamophobia was most often connected to France in the article summaries on the EARS dashboard. This article will tell you why.
The EARS dashboard is a collection of summaries from European media articles on religion and society. ​​Between 1 January and 31 August 2022, a total of 60 article summaries on the topic of Islamophobia were added to the dashboard by our international team of analysts. A significant number of them, 24 summaries altogether, were either published in, or referred to, France. This article looks into those articles to find out what happened in France in 2022.
April 2022
According to the EARS dashboard glossary, Islamophobia refers to "unreasonable dislike or fear of, and prejudice against, Muslims or Islam." By using the tools offered by the dashboard, the timeline for this search was set between 1 January and 31 August 2022. The graph below shows that Islamophobia as a topic occurred most often in April 2022, when 8% of all dashboard summaries discussed it. Since April, Islamophobia has remained rather topical.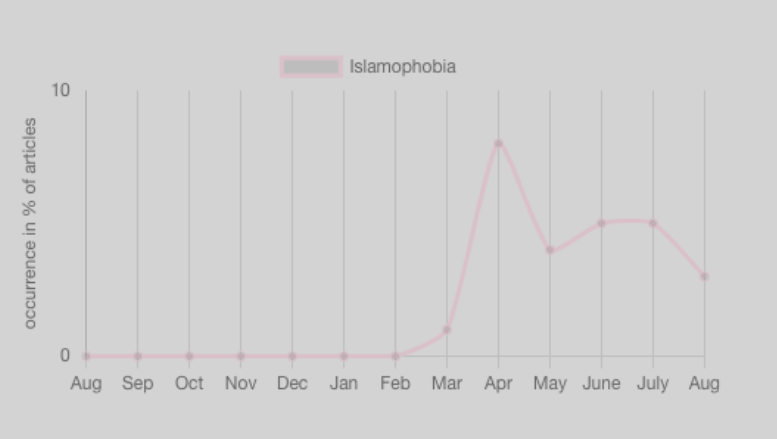 The dashboard also tells us the percentage of summaries that covers certain global developments that occur together with the topic of Islamophobia over time. As shown below, six key developments related to Islamophobia were governmental rules, social cohesion, social change, security, racism, and transgressive behavior. Governmental rules and social cohesion appeared especially in April.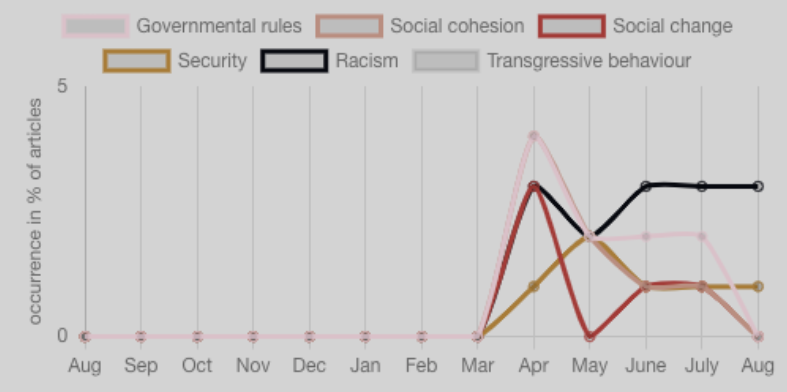 When diving into the article summaries of our search, we notice that a big theme is the French presidential elections that were held in April 2022. The top candidates in the election were Emmanuel Macron, Marine Le Pen, Eric Zemmour, Valérie Pécresse, and Jean-Luc Mélenchon. The word cloud from the dashboard supports this finding, as some of the most often occurring words in the summaries during the selected time period are Muslims, Muslim, French, Le Pen, Macron, and Jean Du-Melenchon.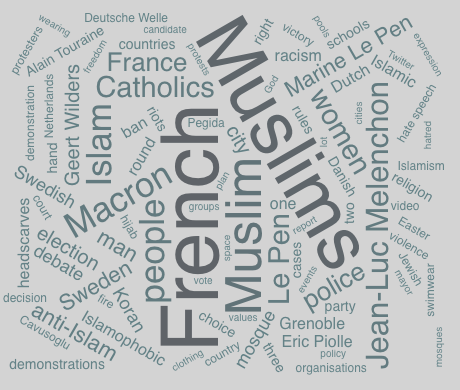 Muslims behind Mélenchon
When looking into the articles, we can read that in March 2022, Dutch newspaper Het Nederlands Dagblad wrote that presidential candidates Macron, Le Pen, and Zemmour are all known for their anti-Islamic views. Of the three, Macron was ranked as the most tolerant towards Muslims, even though he, too, had closed Islamic schools to prevent "radicalisation" and "separatism."[1]
Spanish News agency Mundoislam[2] and Turkish broadcaster TRT World[3] reported in April 2022 that many French Muslims support the leftist candidate Mélenchon, as his attitude towards Muslims and Islam is considered more positive than the other candidates. Mélenchon had defended the right of Muslims to wear what they want in public spaces.[4] A total of 70% of all French Muslims ended up voting for Mélenchon in the first round of the presidential election.[5]
The two 'evils': Macron and Le Pen
After the first round, the second election took place between the two top candidates, Macron and Le Pen. Neither of them received a good reception from the Muslim community, as they both expressed their rejection of Muslim headscarves in public.[6] Le Pen even argued that if she were to be elected, she would ban scarves and fine women who refuse to comply with the ban.[7] According to the Dutch broadcaster BNNVARA, Le Pen argued that wearing the hijab is imposed by "Islamists" who "force women to wear them."[8] However, her views were not supported even by her closest allies. For instance, David Racheline, a French politician for National Rally and a mayor of Fréjus, commented that Le Pen had gone too far.[9]
The Muslim community was afraid that if Le Pen were to be selected, anti-Muslim discourse would become more popular and publicly accepted and abuse towards Muslims would increase. However, Macron was not considered much of a better choice either, as, during his era of presidency, ruling over Muslims had increased.[10]
Rising Islamophobia in France?
After Macron's victory in the presidential elections, many media outlets covered increased Islamophobia in France.[11] [12] [13] Not only was a mosque set on fire because of xenophobia and racism,[14] there was also a fierce debate on Muslim women's outerwear both on football fields[15] and in swimming halls.[16] [17] [18] The future will show us how French politics and attitudes towards Muslims will develop in the years to come. It is likely, though, that the Muslim community will not face any relief in the near future.
Our team of analysts conducts research on topics relating to religion and society. Find out their relationships on the EARS Dashboard.
---
Sources
[1] Franse moslims moeten kiezen tussen kwaden bij verkiezingen
[2] Por qué muchos musulmanes de Francia apoyaron a Mélenchon
[3] Jean-Luc Melenchon could swing France to the left, but he's a long shot
[4] Por qué muchos musulmanes de Francia apoyaron a Mélenchon; Jean-Luc Melenchon could swing France to the left, but he's a long shot
[5] Headscarves enter French election fray as Muslim women confront Le Pen, Macron
[6] Ibid.
[7] Ibid.
[8] Le Pen in het nauw vanwege haar plan om vrouwen te verbieden een hoofddoek te dragen
[9] Le Pens hijabverbod gaat bondgenoten te ver: 'Hijabi's zijn geen islamisten'
[10] Voting for Macron is a bitter pill to swallow for some French Muslims
[11] DITIB-run mosque set on fire by anti-Muslim attack in France
[12] Elezioni Francia, rischio di rivolte? «È possibile, ma per la religione»
[13] Macron vs Le Pen: Islamophobia wins at the end of day
[14] DITIB-run mosque set on fire by anti-Muslim attack in France
[15] It's brutal' – how French football's hijab ban is affecting Muslim women
[16] French mayor reignites burkini row with pool rule proposal
[17] Burkini ban challenged by Grenoble city council in top French court