Insights from the dashboard: Social media and tension
Reading time:
4
minutes
Insights from the dashboard: Social media and tension
The relationship between social media and religion is contentious. How does the EARS dashboard track this relationship?
The EARS dashboard is a collection of summaries of articles from European media on the topic of religion and society. The dashboard allows users to select, among others, their topics and timeframe of interest. In the past year, 2,908 summaries have been added to the dashboard. Between October 2021 and 2022, 75 of those summaries featured the keyword social media. Out of those 75 summaries, just under half (36 to be precise) also featured the keyword tension. This article will examine the developments in the relationship between social media and religion in Europe from the past year as shown on the dashboard.
A platform for hate speech
The development of technology, particularly social media, in the past 25 years has had a significant impact on individuals' lived experiences and how people engage with one another. Social media has transformed social spaces to "both enlarge the public square of social engagement and compress time for interaction between strangers."[1] Such a development has impacted the religious sphere and how the public engage with and express opinions on religious communities.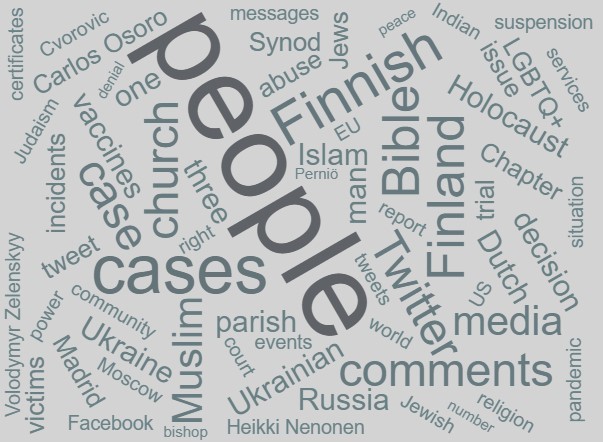 On the EARS dashboard, word clouds are generated based on the keywords tagged. As can be seen in this word cloud where social media and tensions were tagged, unfortunately, social media channels have increasingly become platforms to express hate speech towards religious groups. A handful of summaries on the dashboard from the past year exemplify this trend. For example, a summary from May 2022 highlights a new report published by researchers of the Utrecht Data School into online antisemitic abuse in the Netherlands. The report revealed that in 2020, at least 200,000 Dutch antisemitic tweets, Facebook messages, YouTube comments, and public chats on Telegram were posted.[2] Around 140,000 of the antisemitic messages were posted on Twitter by right-wing conservatives and conspiracy theorists.[3] Dutch antisemitism activist Eddo Verdone suggsted that "this kind of conspiracy thinking poses a national threat. Antisemitism is a virus that affects the basis of our democratic constitutional state."[4]
Moreover, another summary highlights a 2021 paper that reported the rise in online anti-Muslim hatred in Austria. The Documentation Centre Hostility towards Islam and Anti-Muslim Racism in Austria's report showed 1,061 reported cases of anti-Muslim racism, 31% of which were perpetrated by politicans.[5] For the first time, the centre reported that 65.4% of cases were made online.[6]
A platform for public ridicule
Evidence from the dashboard also shows how social media can be used to publicly ridicule individuals who make discriminatory or insensitive comments. For example, in April 2022 Dutch politician Geert Wilders was suspended from Twitter after tweeting the Pakistani Prime Minister Shehbaz Sharif and claiming "the violence of the intolerant ideology called Islam" and of the "fake prophet Mohammed."[7] Interestingly, whilst Twitter banned Wilders, members of the public debated this decision on Twitter. Some claimed that Twitter went too far since Wilders is a representative of Dutch democracy whilst others felt that Wilders was perpetuating hate speech which cannot be tolerated.[8]
Furthermore, a summary from June 2022 highlighted the visit of the Finnish EU Commissioner, Jutta Urpilainen, to a mosque in Abu Dhabi. Urpilainen took to Twitter to say it was a "breath-taking experience" and praise the Islamic culture that conveys the message of "peace, diversity, and tolerance."[9] However, on social media, her post received much criticism because of the United Arab Emirates' awful human rights record.[10] Therefore, whilst social media can be a way to express hate speech towards religion, it can also be a space for individuals in the public eye to be held accountable.
A platform for debate
Social media is, of course, also a place for people to express concerns around religious offence or appropriation. This could be seen during Easter 2022 when Burger King in Spain triggered controversy. The fast food chain promoted vegetarian burgers by making a pun with the religious phrase, relating to the body of Jesus Christ, which is translated roughly as "Eat him all as he does not have flesh."[11] Members of the public took to social media, claiming Burger King was making fun of Christian traditions. Critics stated they would no longer go to the restaurants, circulating the hashtag #boycottBurgerKing.[12] Burger King released a statement apologising "to all those who have been offended by our campaign … our intention has never been to offend anyone."[13]
In conclusion, the EARS dashboard includes a handful of examples of the tensions in the relationship between social media and religion in Europe. It is clear that while social media can be used wrongly as a platform to spread abuse towards religious communities, it is also a space to call out discriminatory comments and debate the role of religion in the public sphere.
Learn more on the EARS dashboard
The EARS dashboard allows you to gain insights into a large number of topics, including abuse. It is a free tool that allows you to make connections like those described above, and to find out about relationships between interesting subjects across Europe. Please visit the dashboard to learn more.
Want to learn more about similar topics? Go to the EARS Dashboard.
---
Sources
[1] Social Media's Role in the Changing Religious Landscape of Contemporary Bangkok
[2] Antisemitismebestrijder: online Jodenhaat nog te vaak onbestraft
[3] Antisemitismebestrijder: online Jodenhaat nog te vaak onbestraft
[4] Antisemitismebestrijder: online Jodenhaat nog te vaak onbestraft
[5] 1061 gemeldete Fälle von antimuslimischen Rassismus im Jahr 2021 | DiePresse.com
[6] 1061 gemeldete Fälle von antimuslimischen Rassismus im Jahr 2021 | DiePresse.com
[7] Geert Wilders weer op het strafbankje van Twitter na islam-opmerking
[8] Geert Wilders weer op het strafbankje van Twitter na islam-opmerking
[9] Jutta Urpilainen julkaisi islamia kehuvan päivityksen Abu Dhabista – somessa täystyrmäys: "Jäätävän irvokasta" – Politiikka – Ilta-Sanomat
[10] Jutta Urpilainen julkaisi islamia kehuvan päivityksen Abu Dhabista – somessa täystyrmäys: "Jäätävän irvokasta" – Politiikka – Ilta-Sanomat
[11] ¿Ofensa o genialidad? la última campaña de Burger King desata la polémica en plena Semana Santa
[12] ¿Ofensa o genialidad? la última campaña de Burger King desata la polémica en plena Semana Santa
[13] ¿Ofensa o genialidad? la última campaña de Burger King desata la polémica en plena Semana Santa