The long road to female leadership
Reading time:
3
minutes
The long road to female leadership
The Church of England has set a target to make sure that half of its leaders are women by the year 2030. As part of this effort, the Church has announced a plan to introduce 'unconscious bias training'. This training is intended to encourage current, predominantly male, leaders to stop hiring individuals that reflect their own image, and instead open up to greater diversity.[1]
25 female bishops
It has only been since 1994 that women have been allowed to become priests in the Church of England. Since then, many women have entered leadership positions. Currently, they make up almost a third of the 200,000 clergy members.[2] However, women have only been allowed to become bishops – a more senior role – since 2014.[3] This is reflected in the current statistics: just 25 out of the 115 bishops in the Church are female.[4] Female leaders are still facing criticism for their positions. For example, self-proclaimed theologian Seth Dunn tweeted: "A woman who claims to be a pastor is … just as … bad as a sex offender who is hired as a pastor."
Rose Hudson-Wilkin
The Church of England is, however, trying to diversify its leadership. The appointment of Rose Hudson-Wilkin as a bishop in November 2019 is a clear example of this. Notably, Hudson-Wilkin represents two groups in society that have been underrepresented in the Church. Not only is she one of the few female bishops, but she is also the Church's first black female bishop.[5] During an interview with the Guardian, Hudson-Wilkin spoke openly about the barriers which not only women, but also minority ethnic people face when trying to reach positions of leadership. This is illustrated by the fact that she is currently one of only four minority ethnic bishops.[6]
Looking towards the future
Although clear changes have been made in the last few decades, there is still a lot of work to do before half of the leaders in the Church of England are female. However, it appears that mindsets are changing, if only step by step. One example of the support for a greater number of women in the clergy has come from Stephen Cottrel, the archbishop of York.[7] He stated that "one day", the archbishop of Canterbury would be female.[8] Furthermore, statistics from the last few years show significant changes. Between 2014 and 2018, almost half of all new bishops appointed were women.[9]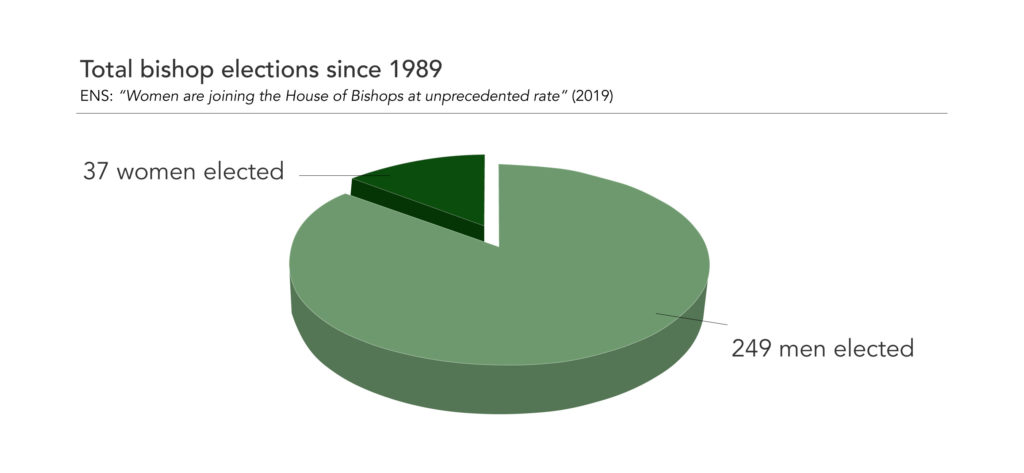 Emma Percy, a chairwoman of the organisation Women and the Church, which focuses on gender equality and inclusion, stated that "the Church of England needs to show that it is a church for all, where women are taken seriously, where women are good enough for leadership and, consequently, seen as good enough for God."[10]
To conclude, the traditional image of the Church of England as being dominated by men is slowly changing. Many members of the institution desire to appoint more women as leaders in the Church. Whether or not the 2030 target will be achieved remains to be seen. However, there is no doubt that things are slowly moving forward.
To all our articles on this website->

Want to learn more about similar topics? Go to the EARS Dashboard and receive free weekly updates.
---
Sources
[1] Church of England give staff 'unconscious bias training' to ensure half are female by 2030
[2] Celebrations mark 25 years of women's ordination to the priesthood
[3] Opinion: To women vicars like me, it's no surprise there are still people who believe we shouldn't exist
[4] Church of England give staff 'unconscious bias training' to ensure half are female by 2030
[5] Church of England appoints its first black female bishop
[6] 'I'm Britain's first black woman bishop and I long for the day when that's not unusual'
[7] Liberal bishop becomes Archbishop of York, No. 2 in Church of England
[8] Stephen Cottrell named as next archbishop of York
[9] To bless and not to bless: Archbishop Welby in conversation
[10] Church of England give staff 'unconscious bias training' to ensure half are female by 2030