Insights from the dashboard: Protests, government, and religion in Europe
Reading time:
2
minutes
Insights from the dashboard: Protests, government, and religion in Europe
The EARS dashboard highlights how religion is mediating tensions between the public and governments in Europe.
The EARS dashboard is a collection of summaries from European media articles on religion and society. Out of a total of 339 summaries between 12 October 2022 and 11 January 2023, the dashboard produced 11 summaries that included both the topics of protests and government rules in the context of religion in Europe. Through the dashboard, we were able to discover a number of insights into how these topics have appeared in Europe and how this has been reported in the news.
Media coverage on protests, government, and religion
Media coverage of the topics of protests and government rules in the context of religion in Europe was particularly high in October 2022, driven largely by how Catholic, Protestant, or Orthodox institutions or leaders reacted to issues causing public protest.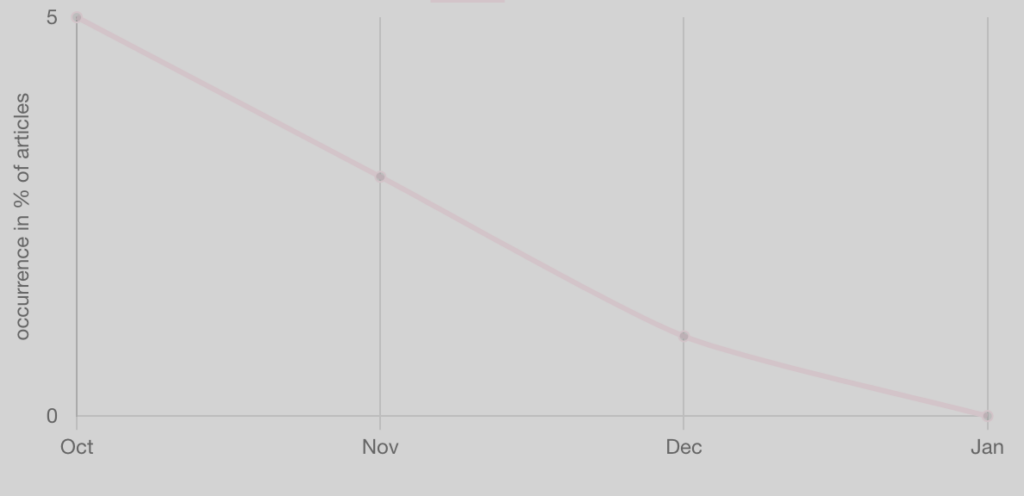 This media coverage, as shown in the word cloud below, has mainly focused on Catholic and Orthodox reactions in different European countries to either the protection of minorities or economic rights. For example, Nikolaus Schneider, the former chairman of the Council of the Evangelical Church in Germany (EKD), called for tolerance during the debate about the Islamic call to prayer in the city of Cologne.[1] Similarly, in Finland, the Bishop of Turku Mari Leppänen highlighted that a rising number of people are seeking help from their church because of the cost of living crisis.[2]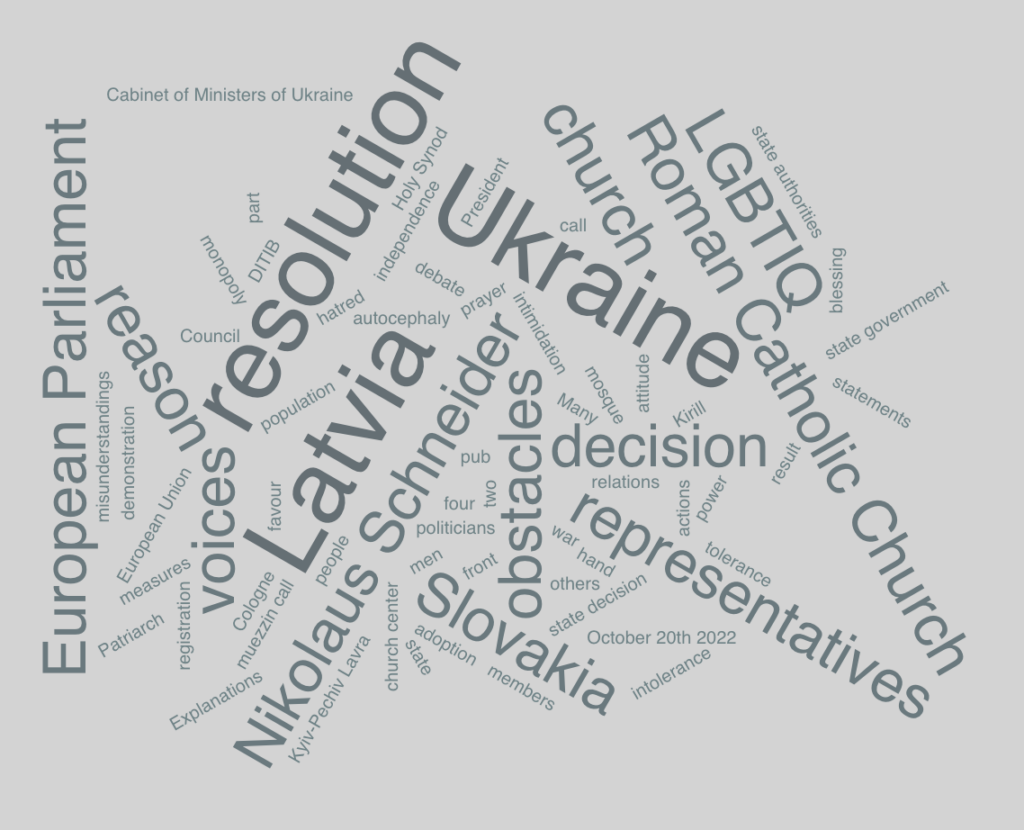 What media coverage tells us about the future of religion and government in Europe
A closer look at the media coverage shows religious, almost exclusively Christian, institutions and leaders are stepping in to overcome limitations in government protection. These protections especially relate to social, religious, and economic tensions and conflict. This emerging role of Christian institutions and leaders can be strongly inferred from the topical overlaps in media coverage detected by the dashboard. The topics of state, religious institutions, leadership, tension, and conflict not only overlap, but do so significantly.
An example that clearly demonstrates this is the Spanish Episcopal Conference's public support for workplace safety. It has launched a campaign calling for the Spanish government to implement measures to reduce the risk of workplace accidents. According to official figures, 623 people in Spain have died at work in the first nine months of 2022. Pope Francis had publicly stated that these deaths were "not just numbers, they are people," and that there should be "no more deaths at work!" The Spanish Episcopal Conference was understood to be following through on the pope's call to action.[3]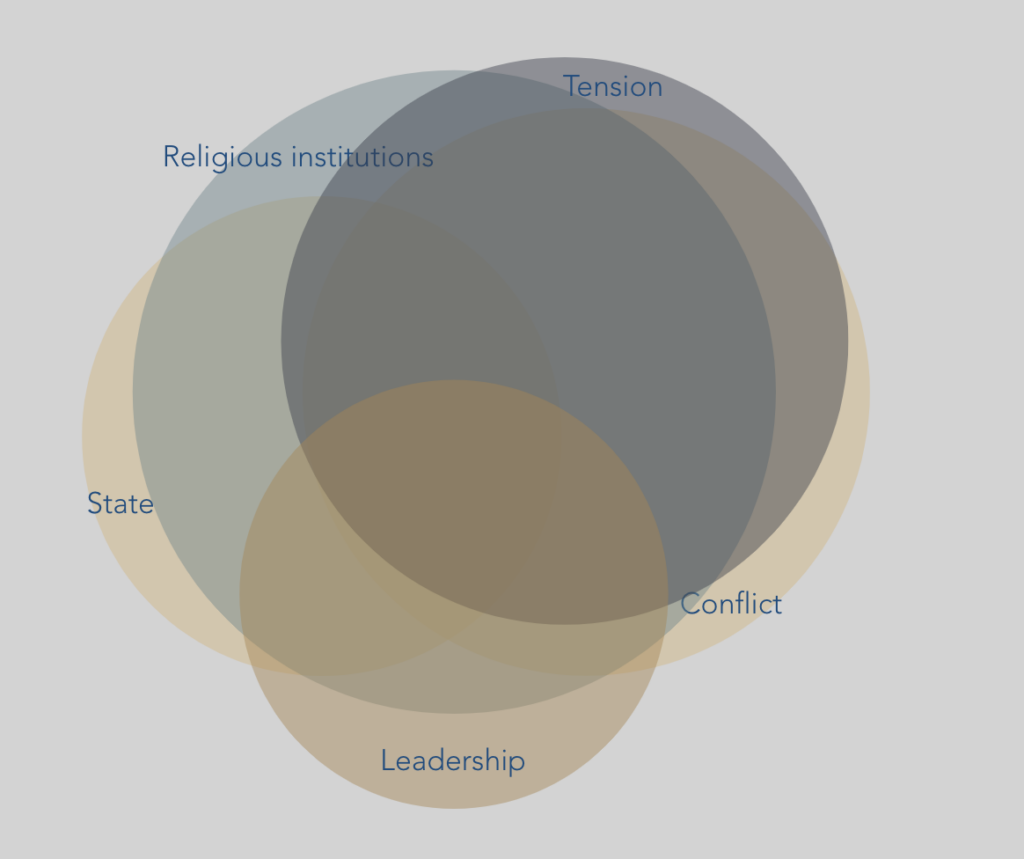 It can, therefore, be argued that Europe's Christian institutions and leadership, both national and global, will play a significant, if not increasing, future role in addressing the social and economic challenges facing European society.
Learn more on the EARS dashboard
The EARS dashboard allows you to gain insight into a large number of topics, including protests and government rules. It is a free tool that allows you to make connections like those described above, and to find out about relationships between interesting subjects across Europe. Please visit the dashboard to learn more.
---
Sources
[1] Religionsfreiheit gilt auch für Muslime | evangelisch.de
[2] Turun piispa Mari Leppänen: Tavalliset ihmiset kysyvät, miksi en enää pärjää – kirkon diakonia auttaa nyt sähkölaskujen nujertamia ja Ukrainan uhreja – MTVuutiset.fi
[3] La Iglesia española aborda por primera vez el drama de la siniestralidad laboral