Insights from the dashboard: Social media and religion in Europe
Reading time:
4
minutes
Insights from the dashboard: Social media and religion in Europe
The EARS dashboard sheds light on the role of social media in matters of religion in Europe. Learn more in today's article.
The EARS dashboard is a collection of summaries from European media articles on religion and society. Out of a total of 418 summaries between the three-month period of 27 February to 26 May 2023, the dashboard produced 9 summaries that included social media in the context of religion in Europe. Through the dashboard, we were able to discover a number of insights into how this topic has appeared in Europe and how this has been reported in the news.
Media coverage featuring social media
Media coverage featuring social media in the context of religion in Europe was higher in April 2023, driven by reports of antisemitic online abuse in Poland[1] and Finland.[2]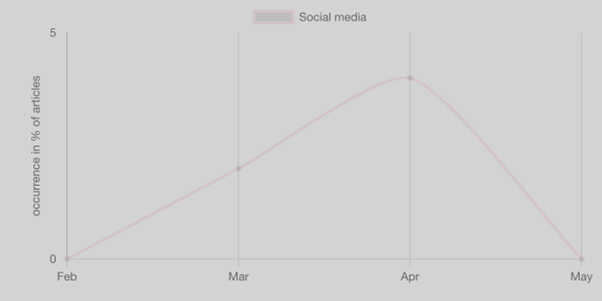 These articles explore the multifaceted relationship between social media and religious discourse and practices in Europe. Social media has the capacity to both positively and negatively influence religious communities. On the one hand, it can serve as a tool for engagement and support, especially among younger demographics. On the other hand, it can act as a conduit for the spread of misinformation and hate speech, with the potential to escalate interreligious conflicts. In the following sections, we will delve into specific examples that illustrate these diverse impacts, ranging from campaigns that encourage marriage[3] to instances of online antisemitism.[4]
What media coverage tells us about the role of social media in religion in Europe
These articles underscore that the role of social media in religion in Europe is multi-faceted and complex. Social media has emerged as a potent tool for religious engagement and discourse, evidenced by campaigns such as Forever Dates by the Spanish Episcopal Conference, which successfully utilised digital platforms to engage younger demographics and revitalise traditional institutions.[5]
However, the transformative impact of social media is not confined to positive engagement only. The cases of threats against churches in Vienna[6] and public posts by Finnish MP Hussein al-Taee[7] demonstrate how social media's pervasive reach can amplify threats and potential misinformation, increasing tensions between religious and ethnic groups. Furthermore, controversial topics, like the church's trans-affirming posts in Sweden,[8] reflect how social media has become an arena for contentious debates at the intersection of religion and social issues.
Social media's role in shaping and reflecting religious norms and practices is another key theme that emerges from the media coverage. For example, Finnish individuals seeking mental health support from religious figures online[9] highlight this aspect. However, social media's ubiquitous nature also has a darker side, as seen through the reported antisemitic activity in Finland and Poland, demonstrating how these platforms can fuel hate speech and discrimination against religious groups.
In Poland, a report by the Czulent Jewish Association documented a significant increase in antisemitic incidents in 2022, with 86% involving online harassment and insults.[10] Meanwhile, in Finland, leaders of the Sinimusta Movement, a political party, faced legal consequences for antisemitic tweets, reflecting the concern over how social media platforms can be used for spreading hate speech and discrimination against religious groups.[11]
Keywords analysis: social media's role in cultural dynamics
The EARS dashboard shows an interplay of the keywords conflict, cultural wars, protest, gender, and identity in the context of these articles on social media.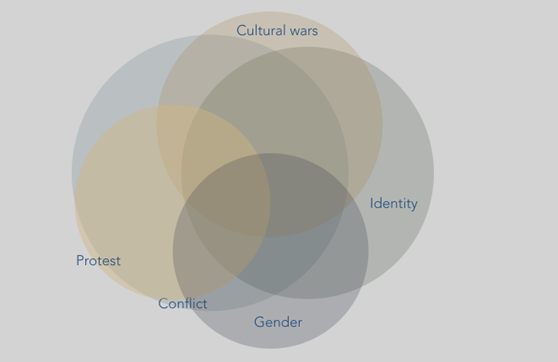 This interplay only confirms that social media plays a significant role in modern religious discourse across Europe. The Forever Dates campaign in Spain[12] illustrates how social media can positively blend digital technology with religious norms, touching upon identity and cultural constructs. Conversely, the threats against Vienna churches[13] and misleading posts by MP Hussein al-Taee[14] demonstrate the potential for conflict and cultural wars.
Furthermore, debates surrounding the Church of Sweden's trans-affirming posts[15] underscore social media's platform for discussions around gender, identity, and religious practices. Lastly, antisemitic activities in Finland[16] and Poland[17] exemplify how social media can perpetuate hate speech, reinforcing conflicts and cultural divisions.
Learn more on the EARS dashboard
The EARS dashboard allows you to gain insight into a large number of topics, including social media. It is a free tool that allows you to make connections like those described above, and to find out about relationships between interesting subjects across Europe. Please visit the dashboard to learn more.
---
Sources
[1] Polish-Jewish group releases worrying antisemitism report – The Jerusalem Post
[2] Sinimustan liikkeen Tuukka Kurulle syyte juutalaisvastaisesta twiitistä – Kotimaa – Ilta-Sanomat
[3] Éxito del 'Forever Dates': Miles de parejas se bajan la 'app' de la Conferencia Episcopal para reactivar su matrimonio
[4] Sinimustan liikkeen Tuukka Kurulle syyte juutalaisvastaisesta twiitistä – Kotimaa – Ilta-Sanomat
[5] Éxito del 'Forever Dates': Miles de parejas se bajan la 'app' de la Conferencia Episcopal para reactivar su matrimonio
[6] Polisen larmar om terrorhot mot kyrkor i Wien | GP
[7] Kansanedustaja Hussein al-Taee julkaisi vihjailevan videon – asiantuntija: muistuttaa disinformaatiokampanjasta – Politiikka – Ilta-Sanomat
[8] Aggressiv kritik mot kyrkans trans-inlägg | Nyheter | Expressen
[9] Yhä useampi suomalainen kääntyy nyt pappien puoleen mielenterveysongelmissaan | Yle Uutiset
[10] Polish-Jewish group releases worrying antisemitism report – The Jerusalem Post
[11] Sinimustan liikkeen Tuukka Kurulle syyte juutalaisvastaisesta twiitistä – Kotimaa – Ilta-Sanomat
[12] Éxito del 'Forever Dates': Miles de parejas se bajan la 'app' de la Conferencia Episcopal para reactivar su matrimonio
[13] Polisen larmar om terrorhot mot kyrkor i Wien | GP
[14] Kansanedustaja Hussein al-Taee julkaisi vihjailevan videon – asiantuntija: muistuttaa disinformaatiokampanjasta – Politiikka – Ilta-Sanomat
[15] ​​Aggressiv kritik mot kyrkans trans-inlägg | Nyheter | Expressen
[16] Sinimustan liikkeen Tuukka Kurulle syyte juutalaisvastaisesta twiitistä – Kotimaa – Ilta-Sanomat
[17] Polish-Jewish group releases worrying antisemitism report – The Jerusalem Post