Lights off? Churches across Europe prepare for dark winter
Reading time:
4
minutes
Lights off? Churches across Europe prepare for dark winter
The Russian invasion of Ukraine has pushed up energy prices across Europe. What will be the impact of this on the continent's churches?
The war in Ukraine, and the threat of Russia cutting off Europe's access to its gas, is threatening to plunge Europe into a dark winter, both metaphorically and literally. In the face of this danger, European countries are putting measures into place to try and reduce their energy use.
For churches across the continent, this provokes a series of challenges. Whilst churches may wish to take a leadership role in cutting energy usage, this decision carries difficult consequences for both continuing their traditional practices but also for providing support to vulnerable people.
Although with Europe suffering a particularly hot summer the winter may seem far away, the question of how societies and institutions respond to the upcoming crisis is sure to gain greater attention as it approaches, and therefore it is worth considering some of the challenges that are on the horizon for churches.
Support for Ukraine
As demonstrated by summaries uploaded to the EARS dashboard, churches across Europe responded to the Russian invasion of Ukraine by expressing both sympathy for the Ukrainian people and support for their defence of their land. Yet, as the war continued through the summer, the impact moved from a foreign conflict to having direct consequences on the administration of churches themselves.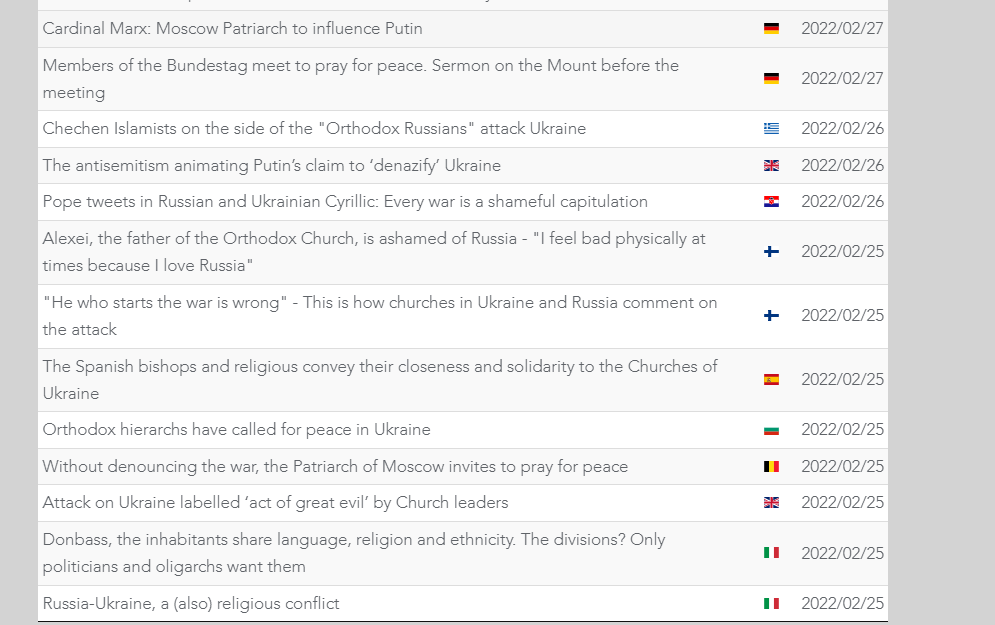 Lights off
Given the dependence of many European countries on Russian gas for their electricity supplies, and the leverage this grants President Putin, EU member states have come together to agree on targets for a "voluntary reduction" of their gas usage. It is hoped that by aiming to cut gas usage by 15%, Europe will be able to avoid the worst-case scenario of electricity shortages should Putin decide to stop his supply.[1] In order to achieve these targets, European governments have put in place measures which will aim to limit the use of gas not only by public institutions, but also by citizens and businesses.[2]
As a historic and influential institution, the Church has the potential to play a symbolic role in encouraging citizens to do all they can to cut energy. One way of doing this is by accepting the need to turn off the night-time illumination of cathedrals and churches.
The symbolic value of this is evident in one example from the Basque region of Spain, where the authorities in charge of the Vitoria cathedral have volunteered to turn off the lights at night. This has created significant media attention. In fact, an article written by El Diario which explained all the measures adopted by the region referred to the cathedral in its headline.[3] This commitment has now also been followed by other dioceses, such as Valencia.[4]
Similarly, in Germany, striking pictures of a dark Berlin cathedral have been used in various articles that describe the city's measures for reduced gas usage.[5] [6] For churches across Europe, these developments in Spain and Germany could be valuable reference points by demonstrating the symbolic and leadership role of churches in taking action to save energy.
Community support vs saving energy
However, whilst grand cathedrals may choose to turn off their lights in accordance with energy-saving measures, for smaller parishes these choices may be forced rather than voluntary. This is because the disruption to Europe's gas supply has led to massive increases in the price of electricity and heating in some European nations.
The United Kingdom is one nation that has been particularly affected by these increases, with wide-ranging concerns about even higher prices this coming winter.[7] An article written in The Church Times explains how many church leaders are seriously concerned about the impact of the increase in their energy bills. Reverend Sally Moring of the parish of St Mary's, Wendover, in the Oxford diocese, explained that the bill had increased from just under £8,500 last year to currently being £14,000 and forecast to rise to £22,500 next year. As a result, her church was desperately looking to make savings, with one solution being to install LED lights throughout the building to reduce costs.[8]
However, in a dilemma that is sure to resonate with parishes across Europe, Moring explains that the church's bills may have an impact on the wider community. This is because St Mary's also hosts lots of community groups, for example a childcare group and events for elderly people. But due to the price of the bills, the Reverend explains that she will have to make a choice between "keeping the church warm enough for the midweek activities […] and paying the bills."[9]
For churches across Europe, this example highlights a major challenge. Churches can often play important roles in local communities both by hosting gatherings and by providing charity support to the vulnerable. However, with the increase in costs, will they be able to continue this role, at a time when it is more needed than ever? And what will be the consequences for the churches' reputations if they do not have the money to support people in this particularly challenging time?
Difficult decisions
For a number of years, church leaders across different countries and different denominations have stressed the need to pursue greater sustainability in the context of climate change. However, the Russian invasion of Ukraine has created an unexpected need to take immediate action, both as part of a wider societal response and for their own financial needs.
Although the extent to which fuel shortages and prices are affected remains to be seen, it is clear that the issue of energy saving will be one of the major challenges facing church decision makers this winter.
Interested in similar topics? Go to our Dashboard to learn more.
---
Sources
[1] Member states commit to reducing gas demand by 15% next winter – Consilium
[2] Air-con, ties and lights: How Europe plans to save energy and get through winter without blackouts – The Local
[3] Euskadi empieza a apagar la luz: la catedral de Vitoria a oscuras de noche como símbolo del ahorro energético
[4] El Arzobispado de Valencia se suma al Plan de Ahorro Energético
[5] Berlin turns off the lights in a bid to save energy | Euronews
[6] Berlin turns off exterior lights in bid to to save energy
[7] Why UK energy prices are rising much faster than in Europe – CNN
[8] Parishes feel the squeeze as energy bills rocket