London: City of sinners or saints?
Reading time:
2
minutes
London: City of sinners or saints?
London has a reputation for being a liberal, progressive, and largely secularised city – one of the world's hubs of business and innovation. But a new study shows this picture to be incorrect, at least as far as religion goes. London is considerably more religious than the rest of the UK, according to a study by the think tank Theos.[1]
The researchers collected data from over 3,000 respondents, both Londoners and residents living elsewhere in the UK, asking them about their religious beliefs, practices, and involvement in charitable causes. They found that 62% of Londoners identify as 'religious', compared to only 53% in the UK excluding London. Londoners are more than twice as likely to attend a church service regularly. Whereas 32% of Christians outside London pray regularly, that figure skyrockets to 56% among London's Christians.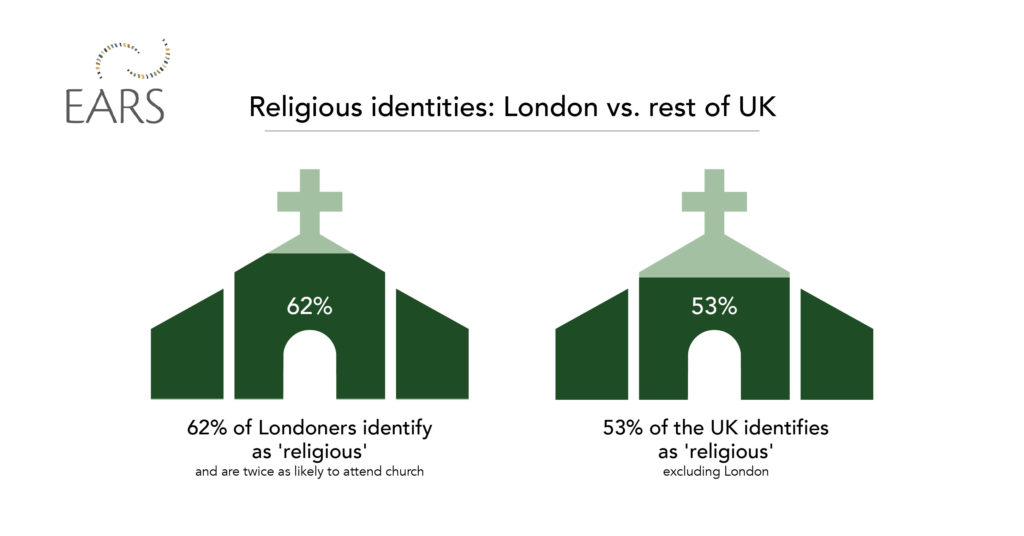 The study also found Londoners to hold more conservative views on social issues. Londoners consider that sex before marriage is 'at least sometimes wrong' more often than non-Londoners. They also tend towards similarly conservative positions on same-sex relationships, and assisted suicide for those with incurable illnesses. Within London, religious people tend to be more generous with their time and money than non-religious people. Although this is self-assessed and therefore subject to bias, around half of religious Londoners say that they are likely to volunteer for a local charitable initiative, compared to 40% of non-believers.
Surprising findings
The findings were indeed surprising, and received coverage from a range of news sources from across the liberal-conservative spectrum.[2] [3] [4] The findings have raised hopes for a conservative mayor for the capital which had previously been thought unlikely.[5] Religious people also aligned with traditionally conservative values such as belief in business and private enterprise as the best response to the city's poverty crisis. Included in the study were several recommendations based on its findings.[6] The researchers suggested developing Londoners' religious literacy, increasing opportunities for religious groups' engagement in public life of the city, and encouraging 'practical multiculturalism'.
The Director of Theos, Elizabeth Oldfield, has said that one of the strengths of London is its openness to welcoming people from all ends of the religious, social, and political spectrum.[7] The findings demonstrate quite how interesting, diverse, and surprising the city is, she commented. Questions about other parts of Europe naturally arise from this study: has the religiousness of our biggest cities been underestimated? What is the relationship between immigration and religion? And should religious leaders play a bigger role in the decision-making of the world's metropolises?
Do you want to learn more about the role of religion in society? Visit the EARS Dashboard at earsdashboard.com
---
[1] London, a city of surprises, is more religious and socially conservative than the rest of Britain.
[2] The Times – Sin city? Pious London is actually the capital of conservatism.
[3] The Guardian – London more religious than the rest of Britain, report finds.
[4] Christian Today – London 'more religious than the rest of the country', says new report.
[5] Will there ever be another Conservative mayor of London?
[7] London, a city of surprises, is more religious and socially conservative than the rest of Britain.